Arts Funding – A Game Show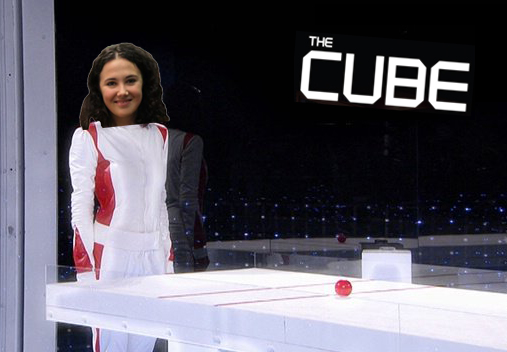 Arts Funding – A Game Show
I was having a typical indie-producer's Friday night in a little while ago: laptop on knee (application), red wine in front of me (just a small one), The Million Pound Drop on TV (Davina).  I took a moment away from my funding bid. Davina paused from the high tension quizzing.  I looked up to the telly. Davina pulled an empathetic face.  She told the contestants that they were doing really well and that they just needed to keep the faith.  Davina told them that each bundle of cash contained £25,000 (TWENTY FIVE THOUSAND POUNDS!!) and it was all to play for. She wanted to know how they'd spend it…
Tell you what… The Future could really do with £25,000. We could really do with anything.  Most arts subsidy I work with comes from The National Lottery – so why not branch out into other televised competitions?
So here's the plan, as part of The Future's fundraising strategy, I'm applying to get us onto every TV quiz/competition show going. Here's an income breakdown:
The Million Pound Drop: Estimated win: £50,000 (expected/confirmed)
Note – I'm not very good at general knowledge myself, but you can now play in teams.  Excellent twist on the format, Davina.
Deal or No Deal: Estimated win: 10p (expected/confirmed)
Come Dine With Me: Estimated win: £1,000 (expected/confirmed)
Note – this would be a team effort – Lisa Mattocks (The Future Director) makes a great designer/lighting/outside eye – perfect for dining room presentation. Sam Vickerage (Administrator) could bring her cocktail training to good use, Leentje Van De Cruys could sing a song about knitting and I know Lowri Evans makes a great egg sandwich (a favourite with technicians worldwide)…
The Cube: Estimated win: £10,000 (expected/confirmed)
Note – roped Sam Vickerage into this one, as she's ever so nimble and used to play rounders.
I'm investigating all avenues, other suggestions would be helpful.  Some of these are large team games and may rely on outsourcing beyond The Future.  Luckily I have a beautiful creative community around me, made up of total geniuses. Thank you to The Future and all of the other artists who have told me they are up for being involved.  If anyone else would like to help, let me know.  I'm very happy to split the winnings fairly – I would love it if you would like to spend your cash on creative projects too.
You've got to be in it to win it. Wish me luck.
Jenny x
Arts Funding – A Game Show is Part One of Making it Happen – a series of projects, in which I (Jenny G: self-starter, solver of problems, doer of things) will make things happen.  More information to follow…